Introduction
CCAMLR circulars (CIRCs) are used to distribute information to Members of the Commission and Scientific Committee. Members can manage their own contact lists and notifications.
Acceding States, as Contracting Parties to the Convention, may also receive CIRCs. As with Members, Acceding States need to manage their contact lists to ensure that they have access to CIRCs.
Party Administrators control website access for other users within their Party. This includes managing distribution lists for Commission and Scientific Committee circulars (CIRCs).
Using the CCAMLR CIRC process, Party Administrators can easily view and edit who, in their Party, has access to view CIRCs and their subscription status, e.g. whether they will receive email notifications ('Subscribed') or not ('Unsubscribed').
Format
CIRCs are sent by email (to those users who subscribe to email notifications) in a particular format. The main text of the CIRC is in the email body and if there is an attachment for the CIRC, there is a link at the bottom of the email to retrieve the entire CIRC as a PDF.
To manage your contact list
To manage your contact list(s), you must be logged into the CCAMLR website (www.ccamlr.org). On the top toolbar, hover over 'Manage User Accounts'. From the drop-down menu select 'Manage Contact List'.
You will be taken to the Contact List Management page. Select the appropriate lists.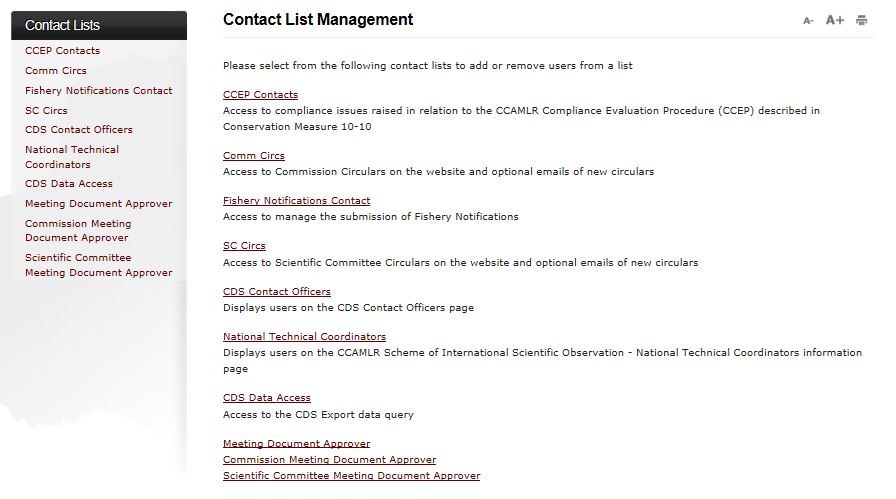 Party Administrators manage contact lists for their own Party. The Party drop-down box displays the name of the Party being managed, as shown here:
The contact list for each Party contains recipients of CIRCs. Party Administrators have the ability to add or remove CIRC subscribers from the list at any time.
Note: Users with expired accounts will not appear on the distribution lists, will not have access to CIRCs and will not receive CIRCs by email.
To add a user
To add a user, select their name from the 'Add User to List' drop-down menu, and click 'Add User'. If a person does not appear in the drop-down menu it means that they are not yet a CCAMLR website user or their account has expired. They will either need to be added to the site or have their access period 'extended' before being added to a contact list.
To remove a user
To remove a person from the list, click the checkbox next to their name, and click 'Remove Selected'.
Email Subscription Status
If the 'Email Subscription Status' of a user within a distribution list is set to 'Subscribed' then that user will also receive circulars of that type by email. If a user exists within a distribution list but their 'Email Subscription Status' is 'Unsubscribed' then that user will not receive an email notification that there is a new CIRC, but will still be able to view those circulars through the website.
To subscribe or unsubscribe a user, click the checkbox next to their name, and click either 'Subscribe Selected' or 'Unsubscribe Selected'. Their subscription status will show in the Email Subscription Status column next to their name.
Users will also be able to manage their own subscription status from "My Account".