Introduction
CCAMLR circulars (CIRCs) are used to distribute information to Members of the Commission and Scientific Committee. Members can manage their own contact lists and notifications.
Acceding States, as Contracting Parties to the Convention, may also receive CIRCs. As with Members, Acceding States need to manage their contact lists to ensure that they have access to CIRCs.
Party Administrators control website access for other users within their Party. This includes managing distribution lists for Commission and Scientific Committee CIRCs.
Using the CCAMLR CIRC process, Party Administrators can easily view and edit who, in their Party, has access to view CIRCs and their subscription status, e.g. whether they will receive email notifications (Subscribed) or not (Unsubscribed).
Giving a user access to CIRCs
To give a user access to a CIRC, please follow the instruction for Guide for Party Administrators and CDS Contact Officers: Assigning user roles and assign either Comm Circs or SC Circs as appropriate.
Email Subscription Status
If the 'Email Subscription Status' of a user within a distribution list is set to Subscribed then that user will also receive circulars of that type by email. If a user exists within a distribution list but their 'Email Subscription Status' is Unsubscribed then that user will not receive an email notification that there is a new CIRC, but will still be able to view those circulars through the website.
To manage 'Email Subscription Status' of a user, please click Manage User Accounts on the homepage of the CCAMLR website, and then click Distribution Lists.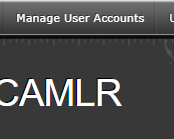 Find the user you wish to manage and click Edit account.

Click the Subscriptions tab. You can now choose which circulars that user is subscribed to by checking or unchecking the box next to each circular type. Click Save to submit your changes.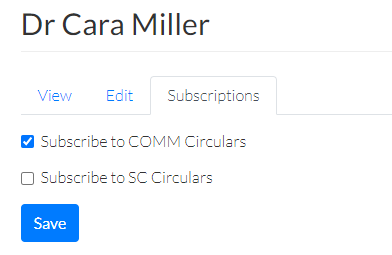 Users can also manage their own subscription status by clicking Manage Subscriptions on the circulars webpage.