As Party Administrator you can assign roles to individual users. The role defines the level of access each user has to CCAMLR's online resources.
For example, assigning the role of Scientific Committee (SC) to a user will enable them to see all working group papers.
In the top horizontal menu on the CCAMLR website, select 'Manage User Accounts'. This takes you to the list of all users in your party.
Find the user whose role(s) you wish to define, then in the far right-hand column of the table, select 'Edit'.
In the 'Edit User' screen, check the boxes against the roles you wish to assign to the user.
Scroll down to the bottom of the page and click 'Save'.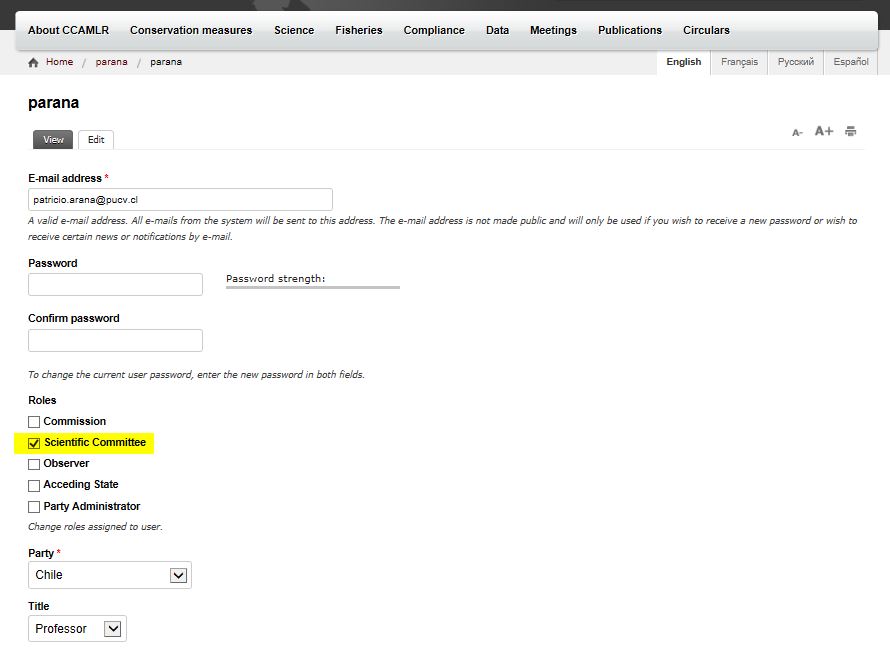 Note, a person assigned to the role 'Observer' will not have full access to the CCAMLR website.
They will have full access to Commission and Scientific Committee meetings from the time of accepting the Secretariat's invitation to attend the meeting (July), during the meeting and for two weeks after the meeting.
They will not have full access to Working Groups.
They will not have access other restricted contents such as Compliance Reports and Inspection Reports.
For further explanation of CCAMLR Roles and Contact lists see Access to CCAMLR's online resources (CCAMLR website).