Duration – 3:08. Closed captions available (click on the 'CC' button when hovering over the video).

Report text can be accessed by clicking on the Report Text tab for your meeting. From there you can choose to view the text by selecting the latest version.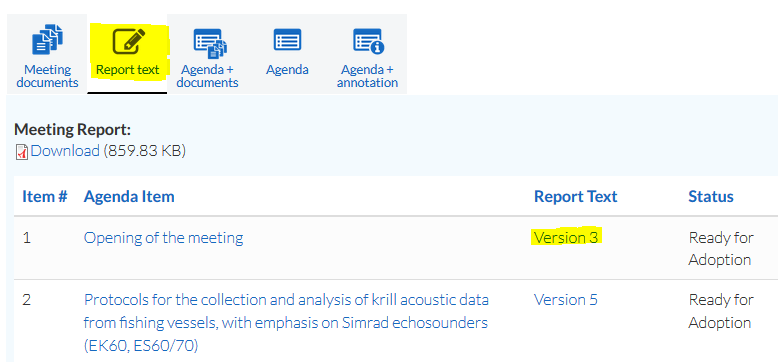 Each report text version will show a document preview and give you access to the version history. You also have the ability to view any comments and contributions made by participants.

This screen displays information such as the status of the text, what agenda item it relates to and who the rapporteur is. You will also have the option of downloading the report text, in case you wish to suggest changes by creating a comment and attaching your new version for the rapporteur.

Another way of accessing text is by selecting the agenda item. You will be presented with a table showing you previous versions, the status and a download link.

You can also browse for recent content additions (report text, contributed files, etc.) by selecting the
'Find Content' function.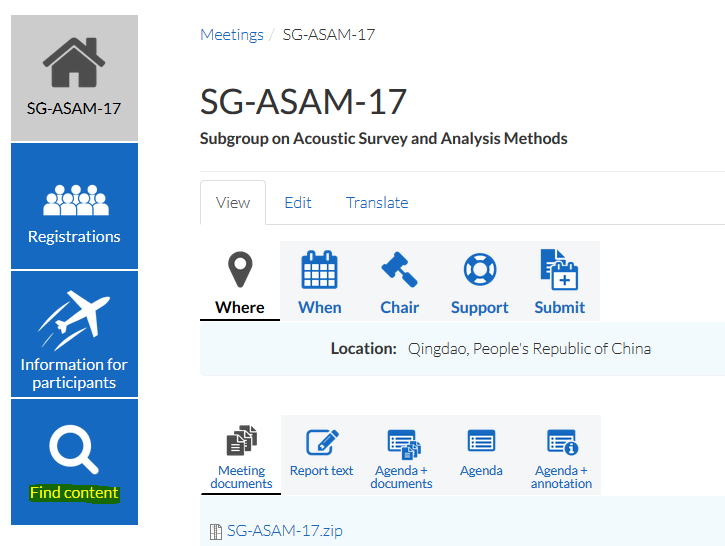 You have the option of narrowing your search to just Contributed Files or Report Text. Select the content type you wish to search for and click 'Apply'. A list of results fitting your search criteria will be displayed and you have the ability to sort by columns such as Agenda Item and Status.

You can also browse for specific comments that have been submitted on report text by clicking on the 'Comments' tab.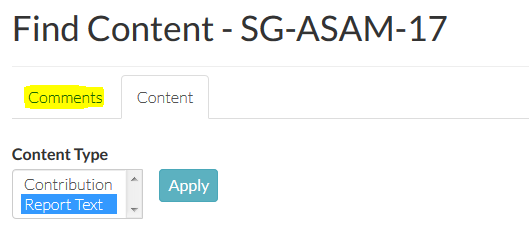 You have the ability to filter by author name, title of the text and comments made during a specific date range.

Once the results have loaded you can see a preview of the comment on the right hand side of the screen. If you wish to view the comment in further detail, select the Report Text version it relates to.

Throughout the meeting you will be able to post comments on the report text. Comments apply to the individual version of the text and not the agenda item as a whole, therefore, the ability to make comments will only become available once report text has been submitted by the rapporteur. Any delegate can post comments by utilising the comments box at the bottom of the Report Text screen. You can type or paste text and even add attachments.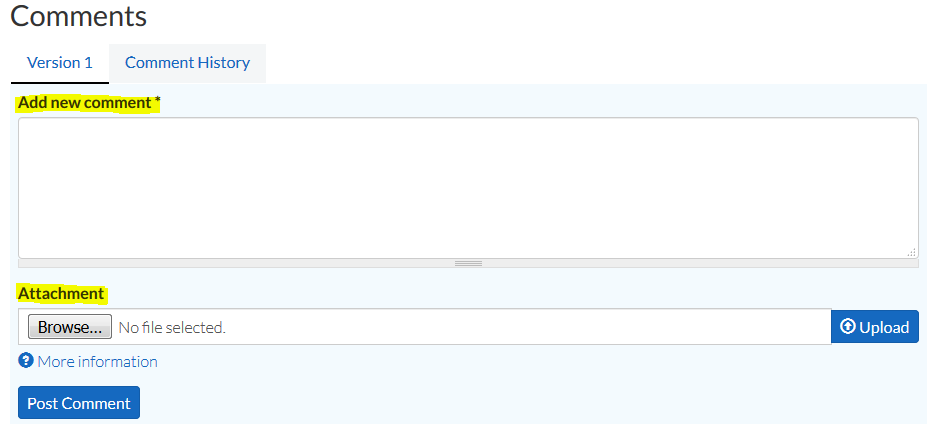 Comments relating to the latest version of the text are displayed in hierarchical threads underneath the document preview. You can also view comments made on previous versions of the text by clicking the 'Comment History' tab.

Rapporteurs will be alerted by email when a new comment is posted. It is up to them to incorporate comments and create a new version of the text. Once the status of the report text has changed to Pending Approval or Approved, the alerts will be sent to the Convener and meeting support staff.