Once a meeting is in progress you can subscribe to receive email alerts for the following items:
Report text (all registered participants will be subscribed to receive these alerts automatically)
Comments
Supplementary documents (previously known as 'Contributions').
Click on the 'Subscriptions' tab in order to manage your alerts.

Subscriptions are managed per agenda item. You can choose to subscribe to individual agenda items or all agenda items. Report text must exist against an agenda item for you to be able to subscribe to report text or comment alerts.
To easily subscribe to all agenda items, click "Subscribe to all New..." for either report text, comments or supplementary documents. You can unsubscribe to all agenda items by clicking "Unsubscribe to all New...".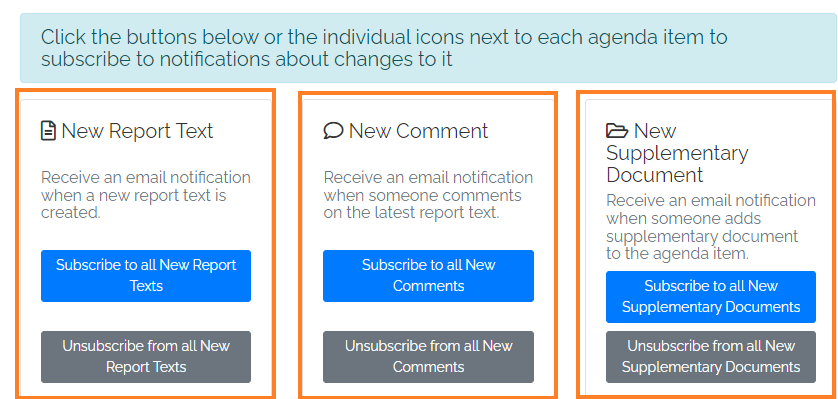 To subscribe to individual agenda items click on the icon for the item type you wish to subscribe to. Report text is represented by a document icon. Comments are represented by a speech bubble icon. Supplementary documents are represented by a folder icon.

Once you have subscribed the icon colour will change to blue. You can unsubscribe by clicking the icon again and it will change to grey. The 'Subscription Status' will also list what you are currently subscribed to for each agenda item.